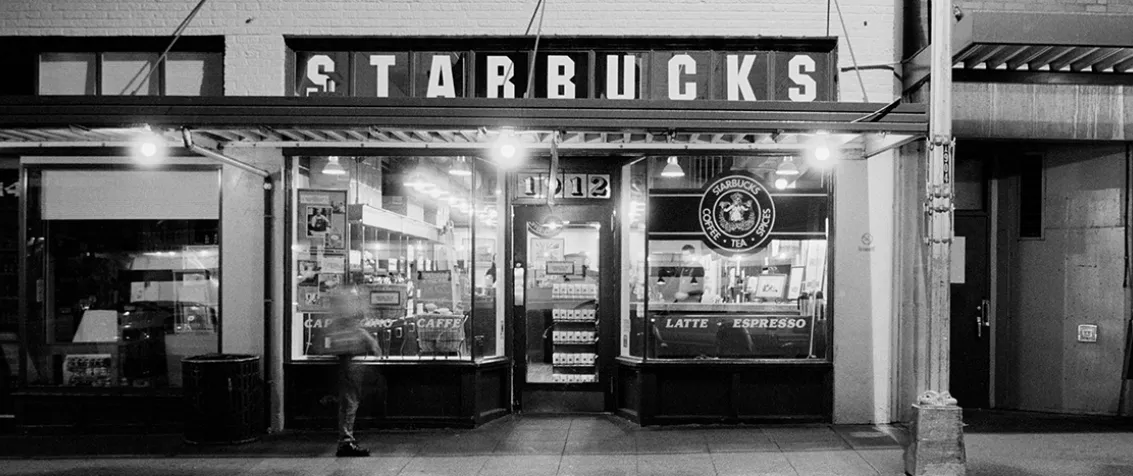 About Us
It happens millions of times each week – a customer receives a drink from a Starbucks barista – but each interaction is unique.
It's just a moment in time – just one hand reaching over the counter to present a cup to another outstretched hand.
But it's a connection.
We make sure everything we do honours that connection – from our commitment to the highest quality coffee in the world, to the way we engage with our customers and communities to do business responsibly.
From our beginnings as a single store more than forty years ago, in every place that we've been, and every place that we touch, we've tried to make it a little better than we found it.
Our Heritage
Every day, we go to work hoping to do two things: share great coffee with our friends and help make the world a little better.
It was true when the first Starbucks opened in 1971, and it's just as true today.
Back then, the company was a single store in Seattle's historic Pike Place Market. From just a narrow shop front, Starbucks offered some of the world's finest fresh-roasted whole bean coffees. The name, inspired by Moby Dick, evoked the romance of the high seas and the seafaring tradition of the early coffee traders.
In 1981, Howard Schultz (Starbucks chairman, president and chief executive officer) had first walked into a Starbucks store. From his first cup of Sumatra, Howard was drawn into Starbucks and joined a year later.
In 1983, Howard travelled to Italy and became captivated with Italian coffee bars and the romance of the coffee experience. He had a vision to bring the Italian coffeehouse tradition back to the United States. A place for conversation and a sense of community. A third place between work and home. He left Starbucks for a short period of time to start his own Il Giornale coffeehouses and returned in August 1987 to purchase Starbucks with the help of local investors.
From the beginning, Starbucks set out to be a different kind of company. One that not only celebrated coffee and the rich tradition, but that also brought a feeling of connection.
Today, with more than 32,000 stores in 80 countries, Starbucks is the premier roaster and retailer of specialty coffee in the world. And with every cup, we strive to bring both our heritage and an exceptional experience to life.
Starbucks Mission
To inspire and nurture the human spirit – one person, one cup and one neighbourhood at a time.
Starbucks Values
With our partners, our coffee and our customers at our core, we live these values:
Creating a culture of warmth and belonging, where everyone is welcome.
Acting with courage, challenging the status quo and finding new ways to grow our company and each other.
Being present, connecting with transparency, dignity and respect.
Delivering our very best in all we do, holding ourselves accountable for results.
We are performance driven, through the lens of humanity.